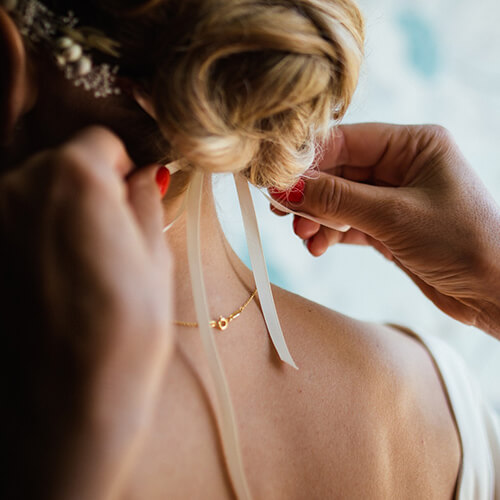 Our Recommendations: 5 Luxury Dress Makers in Perth
Let us face it, the venue, the colour palette, the flowers, food, drinks, the invitations and pretty much everything else can take a back seat when it comes to the wedding dress. Luckily, we have selected the five best luxury dressmakers in Perth to have you turning heads on your wedding day. 
Loui Col Designs by Katie Colgan 
Loui Col designs have an excellent reputation in Perth as one of the premier, luxury wedding dressmakers. Katie Colgan will work with you every step of the way to ensure your dress is exactly how you always dreamt. From initial designs, fittings, and delivery, you can expect only the best from Loui Col Designs. 
Nuku Boutique
Louise Nuku prides herself on supreme quality. As the head designer, Louise has over 30 years in the bridal industry, and her boutique represents her knowledge, style and deep understanding of her client's needs. Choose from complete custom designs, bespoke inspirations and stunning ready to wear gowns.
Bridal by Aubrey Rose
The team at Aubrey Rose strive to find your dream dress and to make sure the entire experience is unforgettable. Let their expert team ease your nerves and worries as you walk in the door to their stunning boutique.  
Karen Willis Holmes
Karen Willis Holmes is a name that attracts brides attention all over Australia and New York City. Their boutique here in Perth is located in Northbridge and will have you ready for your wedding day, no matter the season. Karen Willis Holmes boasts an extravagant array of dresses that when matched with impeccable service and attention to detail, leads to an exceptional experience.  
Samantha Wynne
Samantha Wynnes Boutique in the upmarket Mt Hawthorn is everything you would expect from a luxury dress store, and more. Samantha herself has over 25 years experience designing stunning dresses that exude luxury, elegance, and style. You will be spoilt for choice and treated like royalty. One not to ignore. 
The only downside of having so many amazing dressmakers in Perth is there is so many to choose from. At K & CO Events we have worked with brides who have experience with many of the premier dressmakers in Perth. Feel free to give us a call before you decide on a dressmaker and we will be able to provide some insights.